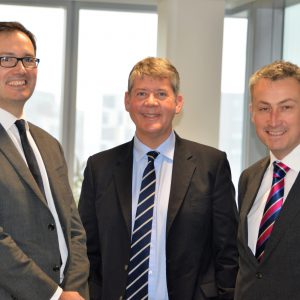 NEW HEAD OFFICE ACQUIRED ON BEHALF OF MSB SOLICITORS
December 16, 2016
Worthington Owen have acquired a new head office on behalf of MSB Solicitors at 4 St Pauls Square.
The move comes after staff numbers at MSB have risen by more than 10% since January. The firm now employ 100 people across three sites and have announced five new partners will be appointed in March 2017.
MSBs new office, located on the first floor No4 St Pauls, boasts more than 5,500 sq ft in the heart of Liverpool's commercial district. St Pauls Square has become the essential address for professional services firms in the city.
Paul Bibby says: "Silkhouse Court has been a fantastic home for us over the past 6 years and has allowed us the space to grow, put plans into practice and achieve some of our objectives as a firm. However, when the building was sold to residential developers in June, it prompted a move that was probably overdue.
"We're delighted to be moving into St Pauls Square. We really feel that this is the ideal address for us, putting us amongst a number of our peers and strategic partners and with all of the facilities we need to continue to develop and offer an exceptional service to our clients."
Mark Worthington of Worthington Owen negotiated terms on behalf of MSB with Neil Kirkham of CBRE representing current landlords Muse Developments.
Paul Bibby continued: "Mark Worthington negotiated a great deal for us and I can't thank him enough. He has listened to us, understood our objectives and helped to secure ideal premises, which I'm sure will allow MSB the stability we need to continue to grow.
"Mark is an engaging character and it has been a genuine pleasure working with him."
MSB have signed a 10 year lease with Muse Developments from December this year.
Bill Addy, chairman of the Liverpool BID Company added: "A thriving commercial district at the heart of the city is critical to Liverpool's continued success. In order to thrive we need to encourage existing businesses to invest and grow. MSB's office relocation is a perfect example and they are to be congratulated."