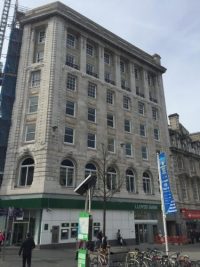 THOMPSONS SOLICITORS RELOCATE TO 88 CHURCH STREET
May 11, 2016
Thompsons Solicitors have completed a letting of 2 floors at 88 Church Street comprising 5,358 sq. ft.  Thompsons are a leading firm of personal injury lawyers with offices throughout the UK and are moving from Martins Building on Water Street. 88 Church Street is owned by Schroders who are in the process of a £1 million upgrade of the building including a major restoration of the exterior and comprehensive refurbishment of the interior to provide bright, contemporary offices with cooling and raised floors.
The offices comprise approximately 15,000 sq. ft. in total on floorplates from circa 2,300 sq. ft. to 2,700 sq. ft. above Lloyds Bank who occupy the ground and first floors.
Ian Bounds, Estates Manager at Thompsons, commented:-
'After a detailed look at the available options in Liverpool, we selected 88 Church Street despite it being a building site at the time as we could see Schroders' vision for the building.  There were far easier options and we were up against a tight timetable but the project has gone smoothly and we look forward to relocating shortly.'
Tom Newman, Investment Manager at Schroders, commented:
'We are delighted that Thompsons Solicitors have chosen 88 Church Street as their new Liverpool base and to have secured a letting of two floors before we have completed the refurbishment.  We will be announcing further information on the refurbishment on completion of the work.'
Worthington Owen acted for Thompsons.  Schroders represented themselves.