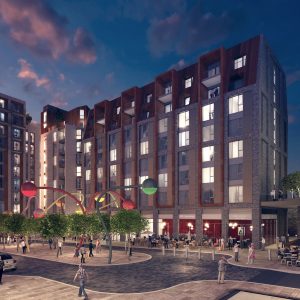 'MARCH OF THE INDEPENDENTS' GETS BOOST AS WORTHINGTON OWEN APPOINTED TO SEEK LOCAL OPERATORS FOR WOLSTENHOLME SQUARE
July 13, 2018
The growth in independent retailers and restaurateurs in Liverpool has been given a boost with the appointment of Worthington Owen as letting agents on Elliot Group's Wolstenholme Square development.
The firm has been instructed to seek the best independent leisure and retail operators to complement the creative businesses sought for the development's ground floor commercial space.
The appointment sees Elliot Group keep a promise it made in 2016 when it first announced its plans to redevelop the north and east sides of the square.  And now, says Andrew Owen of Worthington Owen, the focus is on "ensuring the best possible mix of businesses so that the development stays busy from dawn until dusk."
"Ropewalks is finally fulfilling the potential we all knew it had," says Owen.  "The boundaries of Bold Street, Berry Street, Hanover and Duke Street are now more or less taken care of and Wolstenholme Square represents a unique opportunity to push in to the heart of the Ropewalks."
The scheme, which includes 445 studios and apartments, will see a new pedestrian route lined with retail units which will link Wolstenholme Square with Seel Street. The square, including its famous art installation, Penelope, is being completely refurbished with the help of Jorge Pardo, who designed the playful sculpture as part of Liverpool's 2002 Biennial.
"Our aim has always been to create the most desirable and relaxed public spaces in the city," says Elliot Lawless of Elliot Group.  "The final piece in the jigsaw will be having creative, innovative independent operators to bring it all to life and I'm delighted to have Worthington Owen on board to help with that ambition."
There will be 10 units in total, ranging in size from 474 sq ft to 2314 sq ft.