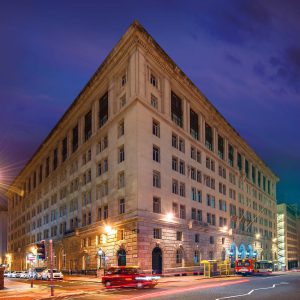 HMRC ANNOUNCE ENORMOUS LETTING AT INDIA BUILDINGS
August 21, 2017
The UK Government have committed to a landmark letting at India Buildings from Legal & General who have acquired the building from Shelborn Asset Management.  Shelborn Asset Management will be the development managers with FCH appointed as architects and Ridge as project managers.
The 270,000 sq. ft. letting comprises all of the upper floors, together with the Holts Arcade and the 'Regency Suite'; effectively the whole building other than the external retail units and the Jubilee Suite (former Lloyds Bank).  It is the largest letting in Liverpool for several decades and will have a transformational impact on the traditional office core around Water Street/Castle Street which has seen a flurry of office buildings converted to alternative uses in recent years.
Worthington Owen acted as letting agent for Shelborn Asset Management and JLL acted for the Government.