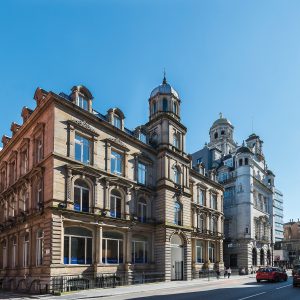 GLENBROOK ACQUIRES NO.1 TEMPLE SQUARE
July 10, 2017
Property investment and development company Glenbrook has acquired a Grade II listed office building in Liverpool City Centre from MCR Property Group.
Located off Temple Street in the city's core, No. 1. Temple Square is a multi-let office building offering 18,761 sq ft good quality accommodation. The building is home to existing tenants such Canter Levin Berg and Kirwans, leaving 40% of the property currently vacant.
This marks the first acquisition for the company since Chris Lloyd joined as investment director last month and follows on from Glenbrook's £6.4million disposal of The Beat in Liverpool city centre earlier in the year.
Speaking about the acquisition, investment director Chris Lloyd, commented: "Liverpool has and always will be an attractive investment location for Glenbrook. With such a high proportion of Liverpool's office stock either let or bought for redevelopment to other uses, we see 1 Temple Square as providing a quality option for occupiers in the city centre. With the potential of a successful Commonwealth Games bid, the completion of Liverpool 2, and the GPU acquiring the whole of India Buildings, the city has exciting times ahead.
"Having successfully acquired the building off market, we are now planning significant investment in the building over the next couple of months with a view to relaunching the product to the market in September. We are looking at similar assets in both the office and industrial sectors, where we can add value through proactive tenant engagement and speculative refurbishment."
Nick Lake, asset manager at MCR Property Group, said: "One Temple Square is a fantastic building in a great part of Liverpool that has improved no end over the past few years. We bought the property in early 2015, and felt it was the right time to sell as it suits us to focus on other opportunities.
Worthington Owen & Hitchcock Wright & Partners have been retained as letting agents.