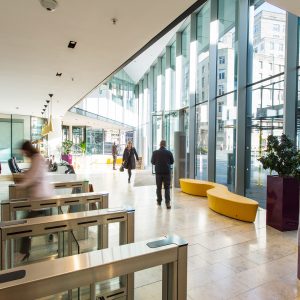 CEL SOLICITORS TAKES FLOOR AT LIVERPOOL'S CHAPEL STREET
October 29, 2019
The law firm is set to move from its current base at the Atlantic Pavilion on the Albert Dock to the 12th floor of Twenty Chapel Street next month.
The 8,000 sq ft space will have room for 90 staff, which is 60 more than its current office. The Chapel Street office will also include an amphitheatre style presentation room and breakout areas.
CEL is set to use this move to further expand its group litigation, data breach, and property litigation services to its clients and grow its property disrepair team.
Director Jessica Hampson said: "This is an incredibly exciting time as we look to move into our new home and press on with our plans for expansion. At the heart of our ethos is putting people before profits; it underpins everything we do, from looking after our clients to ensuring our staff are happy at work, and our new office space completely reflects this".
Ian Murray, director at Canmoor, said: "Twenty Chapel Street is an extremely sought-after location in the city centre, not only because of its enviable location, but its high quality office space that is home to tenants such as LFC, Barclays and EY, to name a few.
Worthington Owen acted for Canmoor in negotiating the letting.