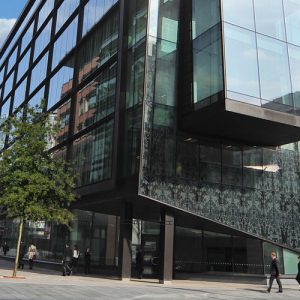 ​Liverpool Echo Commit to No. 5 St Paul's Square in the largest letting of 2017
December 21, 2017
The Liverpool Echo has signed for 25,5​00 sq ft within No​. ​5 St Paul's Square, which is the largest letting to complete in Liverpool City Centre during 2017.  No. 5 St Paul's Square is now fully let for the first time since completion in 2008.
The deal would see the Echo move more than 300 staff across the road from its Old Hall Street base which it has occupied since 1973.
The Echo is owned by Trinity Mirror, and formerly had a sister paper, the Liverpool Daily Post, which closed in 2012. Both publications were based out of the Old Hall Street offices, which also housed printing presses on the ground floor.
Trinity Mirror is planning to keep the site at Old Hall Street for potential redevelopment.
The offices are made up of a brown concrete podium and tower, which has been vacant for some time, connected to the neighbouring Capital building by a glass link. There have long been rumours that the prominent site would be ideal for a mixed-use development; in the last cycle, there was talk of the plot being acquired in order to be demolished and replaced by a high-rise scheme, and hotel uses have also been mooted for the current tower.
At No5 St Paul's Square, which is owned by Standard Life, the Echo joins occupiers including DWF​, Lloyds Bank, Denholm, Mando, Hays, Mann Island Finance and Cheviot Quilter.
Worthington Owen and JLL are joint agents.